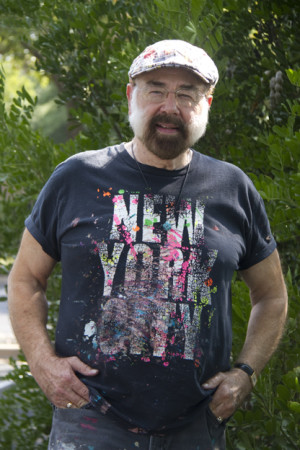 Photo by Bob Rubel
LARRY SMITHERMAN grew up on the West Texas plains where, steeped in the Western tradition, he learned to judge people not by how they looked or dressed, but by the inner qualities that shaped their personalities. It is this unique perspective and rare insight that SMITHERMAN has brought to his life long career in art, and particularly to his portrait work which has become an increasingly important part of his artistic output.
For many years as one of the country's leading publication designers, SMITHERMAN combined his artistic vision and finely honed technical skills to create books, periodicals, posters and catalogs of rare artistic merit. His design work garnered many regional and national awards, and the publications themselves have become highly collectable in the art and rare book world.
Despite success and standing in the commercial art world, SMITHERMAN felt an unyielding need to return to his artistic expression, figurative imagery. In 1987 he turned all his time and energy to painting.
Working in acrylic, SMITHERMAN uses simple lines and pure colors to draw the viewer into the emotions and actions of each painting. Loose, fluid colors, rich textures and startling humanity characterize his painting. Using a subjective style in a contemporary mode, he captures the character of his subject with engaging complexity and dimension. The palette has brilliance, but his technique also yields an unprecedented subtly of depth and texture. There is a tactile quality to the figures creating a kind of virtual sculpture – a blend of form and fantasy which is unique for works on paper.
SMITHERMAN's traditional styling with contemporary flair is shaping a new dimension in figurative painting and portraiture. Stylistically unique, yet perfectly compatible with all other periods and types of art, SMITHERMAN's work is in great demand for gallery exhibitions and publications.